I'm getting excited again. Just like when the last one came out. I went and watched it at midnight, even though I had to be at work at 6:30 and the movie didn't end until 3-ish. Next week, July 15, is the release of the sixth installment of the Harry Potter films,
The Half-Blood Prince
. The trailers look promising, and I'm sure it will be. I have not been dissatisfied with any of the movie adaptations so far. I understand that the directors cannot incorporate every mundane detail from the books and into the movies. That's fine. Just give me the movie, though. Fill it with action, humor, love, mystery, adventure. Bring the amazing story to life.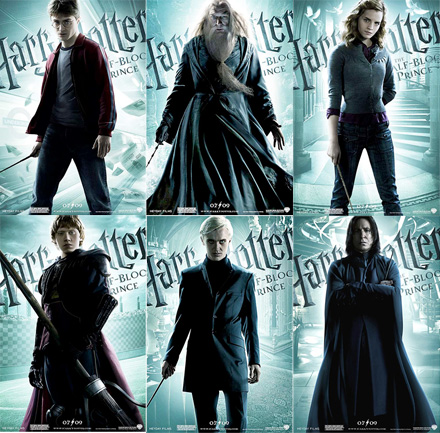 I've liked the Harry Potter series since it came out, after a friend of mine read and liked the first book and passed it to me. Thanks, Jordan. The story is so simple, but equally complex. The mystery involved in each novel is often edge-of-your-seat. The prose reads wonderfully. The characters are full and flushed out. The epic sense of disaster lurking, of knowing the ultimate showdown between Voldermort and Harry, was agonizing to wait for.
These character shots are pretty cool, too. Harry looks ready to duel. Dumbledore doesn't look the crazy, loony headmaster; he looks full of power and ready to take down some Death Eaters. Hermione stands unafraid and ready to take you on. Ron just wants to play quidditch. Draco looks pure evil, like a rich little spoiled boy that's suddenly turned his wrath on you. And
Snape, Snape, Severus Snape (Dumbledore!)
looks mysterious, like he's hiding something, but at the same time he looks agitated and unimpressed, like Ron or Harry were just called down for talking in class.
I loved these books. I have them all on my bookshelf, and I fully intend on reading them again someday. Possibly to my kids way on down the line. Whatever. I love these movies, and have them all on my shelves as well. The point is that I'm excited and can't wait for
THBP
to hit movie theaters. I'll most likely be watching it at midnight again, and this time I don't have to be at work until 8:00.
[By the way, if you're not one of the
63,990,950

YouTube views of the Potter Puppet Pals video, you really should follow the Snape link above, or just click here. You'll laugh, and it'll be stuck in your head, too!]